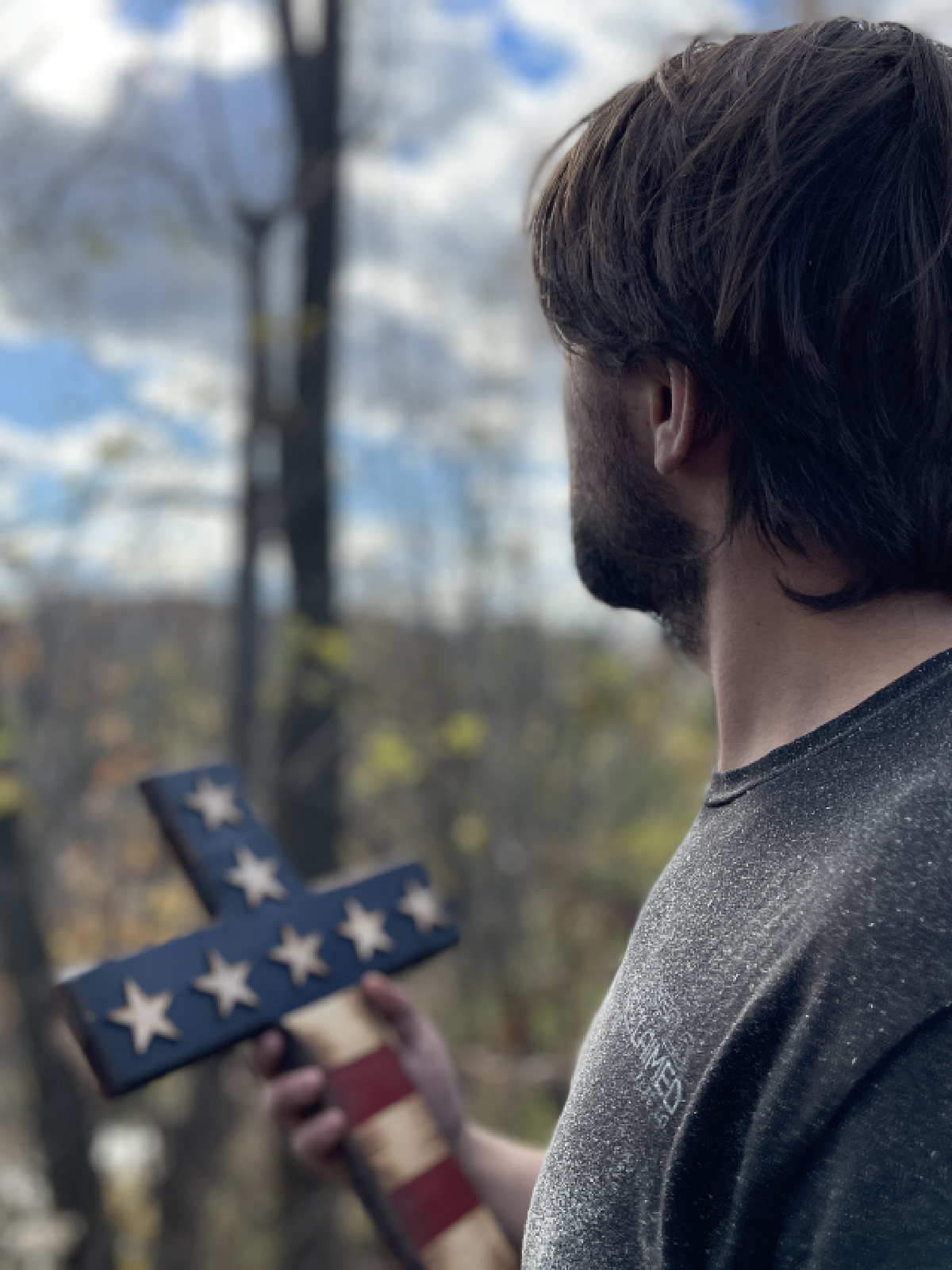 MORE THAN JUST A WOODEN FLAG
Versatility
Our flags are the perfect touch for ANY room both in and out of your home, or for any event- Just ask our customers what they've done! At the home bar? Absolutely. In the garage? Of course! Above the mantle? Obviously. In the office? Totally. Bachelor Party Instagram Backdrop? Sure thing. Birthday Party décor? Without a doubt. In a truck bed? Done that! Our flags are made for anytime and anywhere, so feel free to get creative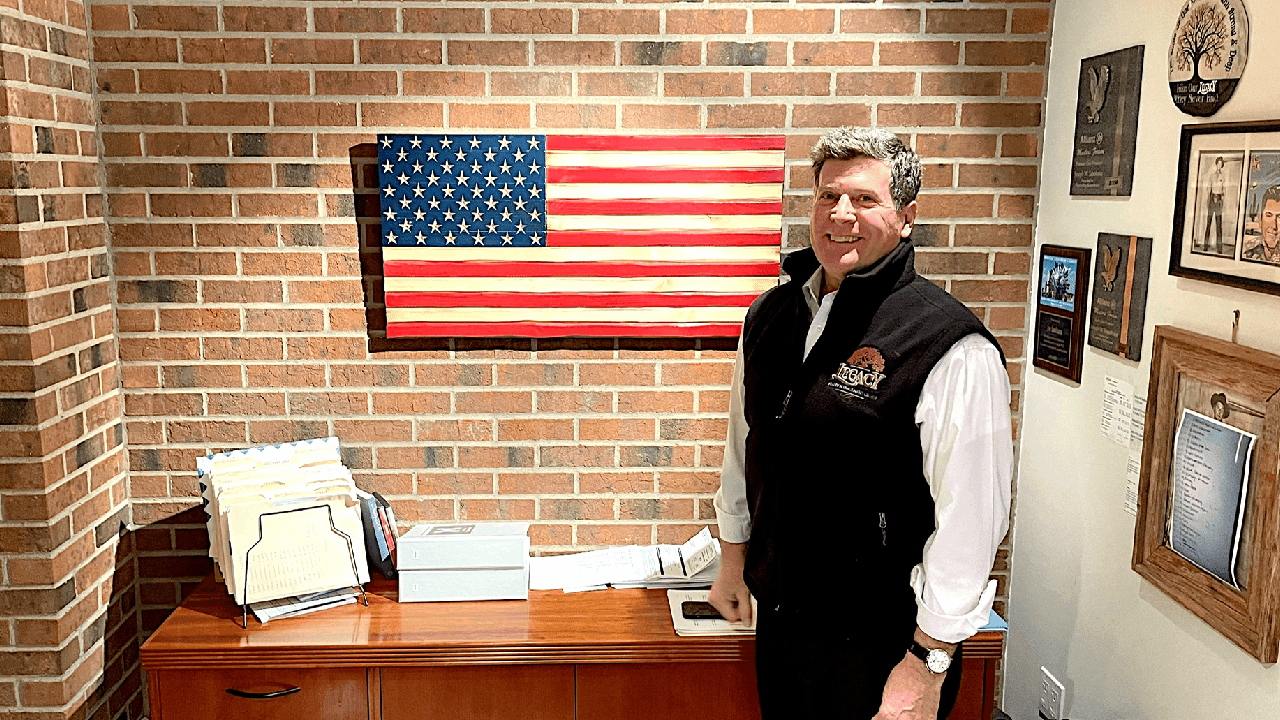 The Perfect Gift
Our flags make the perfect gift for any occasion- Birthdays, Graduations, Christmas, and Housewarming. Congratulate your grad by giving him the ultimate dorm room upgrade. Thank the courageous veteran in your life for their selfless service. This Mother's Day, replace Mom's 100th Live Laugh Love Sign with a gorgeous American flag instead.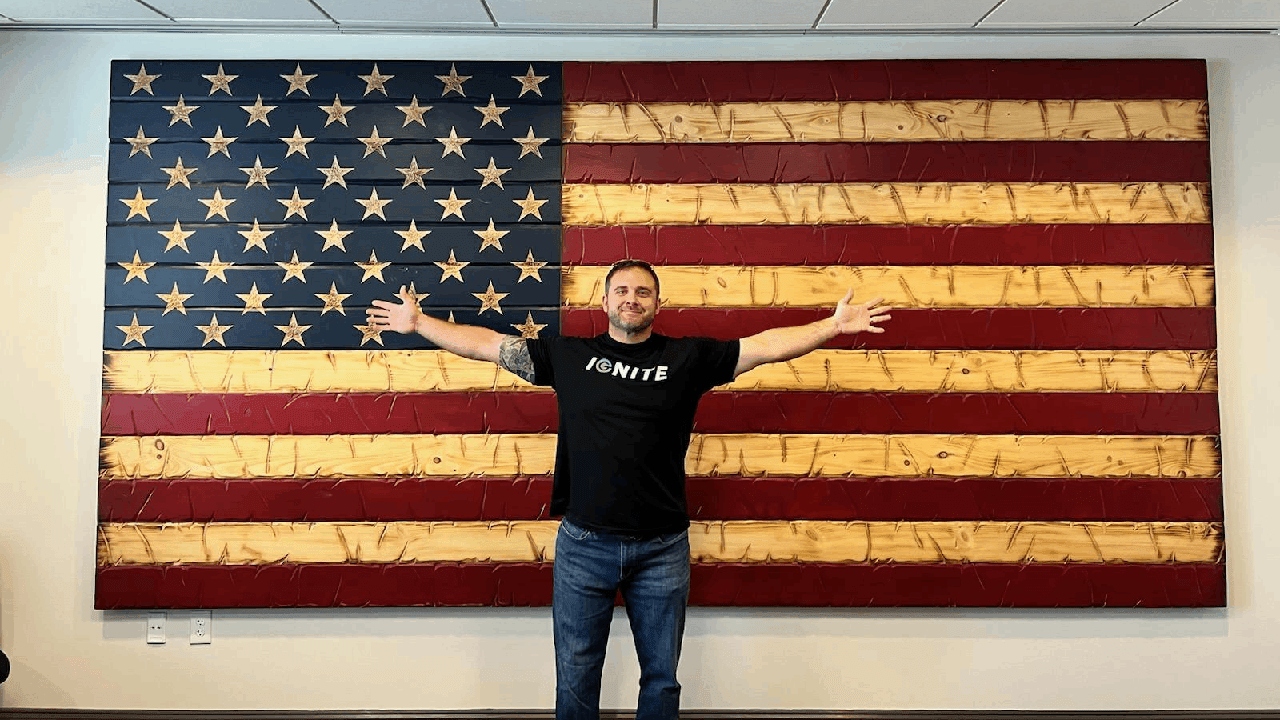 Transform Any Space
Our flags possess the ability to transform a plain old wall to a beautifully rustic homage to our great country. Our flags command the attention of anyone in any room and can truly be a conversation piece for your space
Order from them! It came better than expected. Definitely worth the money and it shows that there was love put into crafting this. As a prior service member and active duty, we really appreciate supporting a a hometown business that puts the extra effort into making and shipping items to our overseas location.
My colossal rustic glory American flag is a Keeper. I will have this beauty for the rest of my Life. If I move it goes with me. And gets the best spot in the house. My office is a very important room to me so the flag lives in there. God bless America
Spectacular service from a family run business! They actually process telephone orders, saving one the worry of putting info online. We received our Flag on July 3rd... just in time for our Independence Day Celebration! The Flag... it's absolutely gorgeous, which we proudly display in a room where we spend hours everyday! We could not be happier!
TRANSFORM YOUR SPACE
Unleash the raw power of patriotism with our flags. Transform any room in your home, gym, or office with a symbol of freedom. Don't settle for ordinary decor, make a bold statement with one of our premiere flags.
*Flag in picture is 9'x4.5' Click HERE for a quote and elevate your space today*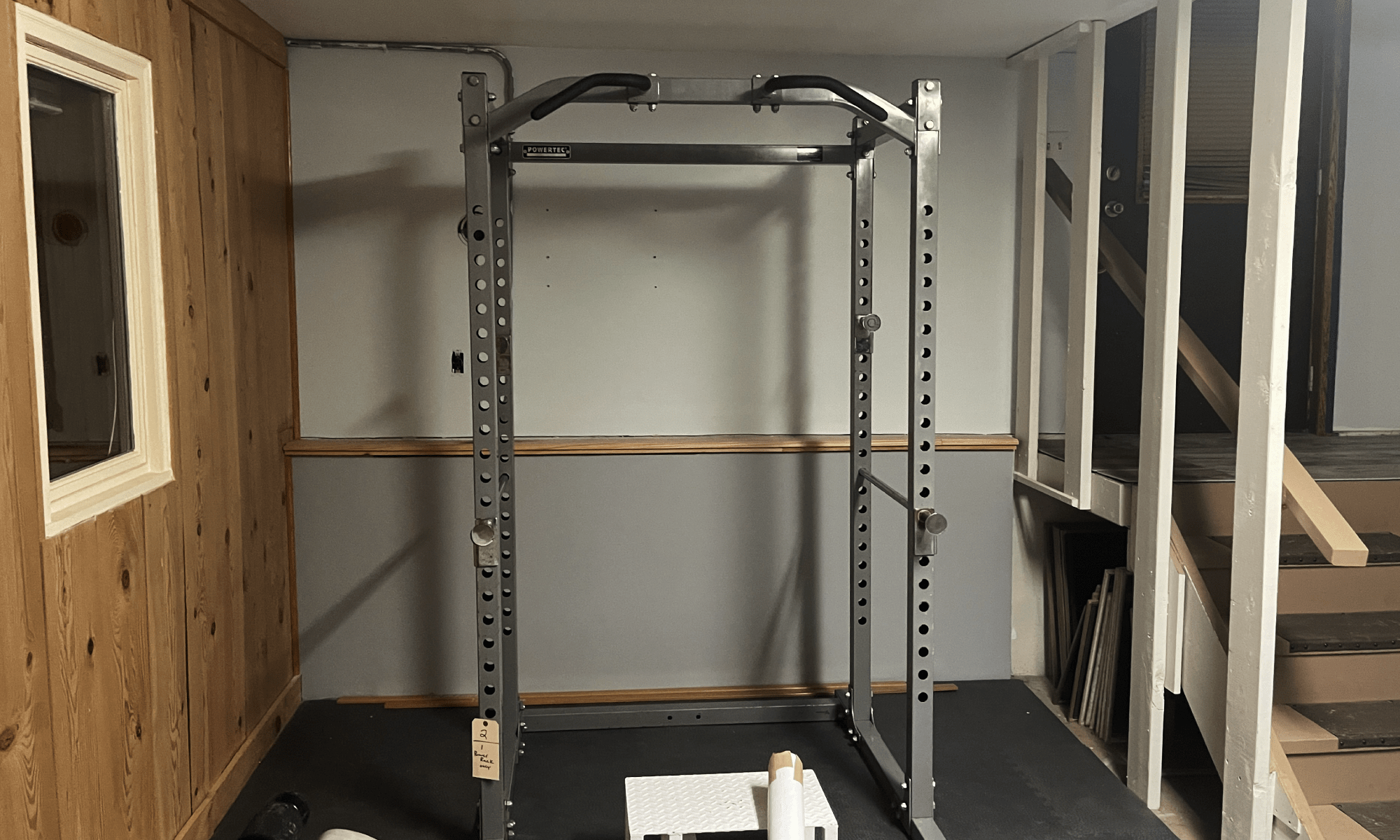 Before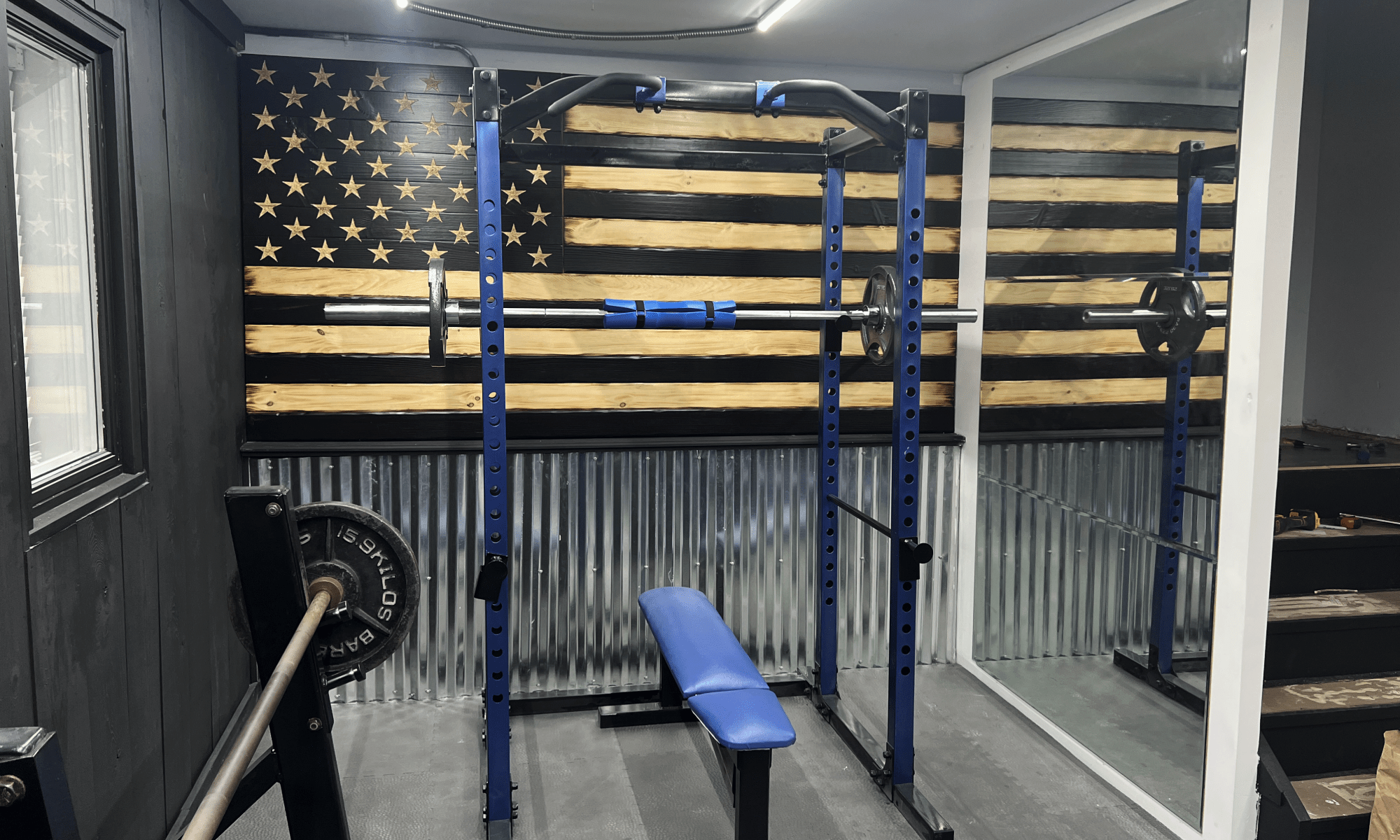 After
16" Handcarved Sacred Glory Cross
Unleash the embodiment of unwavering faith, unbreakable family bonds and unyielding patriotism.
18" Patriotic Laser Cut Skull
This is a fierce and formidable addition that will elevate the aesthetic of any space with its stylish edge.
18"x10" Handcarved 1776 Flag
A work of art that our founding fathers would have stood behind, display it anywhere with fierce pride.
4"x8" Wooden Desktop Flag
Our wooden desktop flag packs a powerful punch, making it a formidable addition to any setting.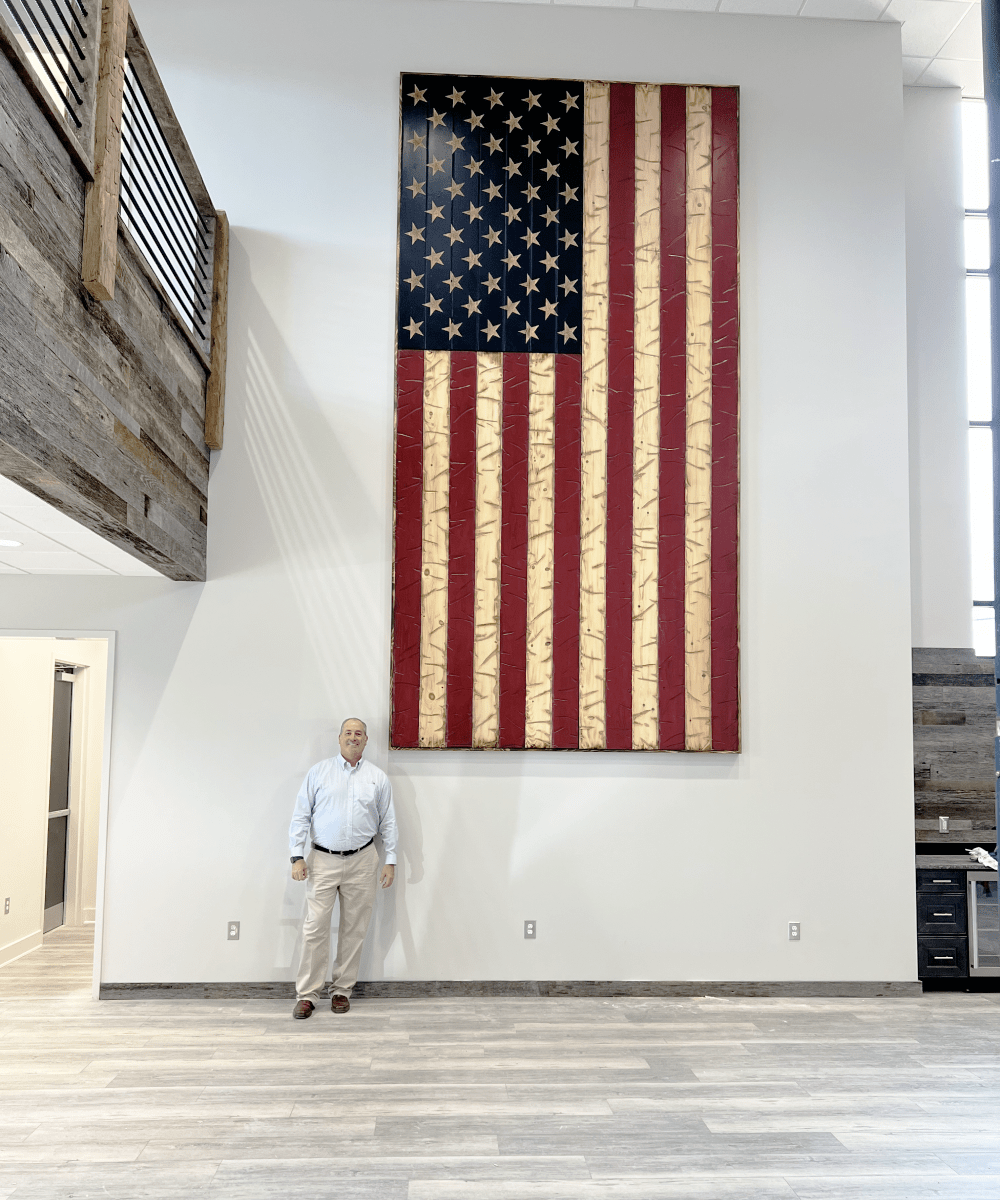 OVERSIZED FLAG LEADERS
Buffalo Reclaimed is the premier flag company that dominates the oversized flag market. We coined the term "oversized", and we mean it - our flags range from a massive 8 feet all the way up to a colossal 16 feet (we can go bigger). We're the clear leaders in this space, not just because we're the only ones doing it, but because we've sent out 130+ of these massive flags and received nothing but glowing reviews. No challenge is too big for us (pardon the pun) and every oversized flag is shipped via LTL freight on a custom-built pallet. Our commitment to quality is second to none. If you want to make a statement and transform your home, office, gym, or business, fill out our custom flag request form and join the ranks of our satisfied customers.
Start Quote
FAQ
Our customer support is available Monday to Friday: 8am-4pm.
Average answer time: 2 Hours
When we first started, we primarily used reclaimed wood from around Buffalo, NY.  We would source it from old homes, reuse establishments, and even pallets.  As we grew our operations and scaled, we shifted towards dimensional lumber due to its consistency at scale. Everything is ripped down in house from lumber sourced from mills all around the USA.
How long will it take to get my order?

We aim for a 2-5 week complete turnaround. We do have an option to expedite our flags to get it shipped out within 10 days. If there is any reason it will be late, we will send you an email or call with an update.
Can these be displayed outdoors?

Absolutely!  We offer an option to weatherproof the flag.  This can be added on the product page. We coat the front and back of the flag with a UV rated spar-urethane.
How big can you make a flag?

As the only flag company specializing in oversized flags, we are dedicated to changing your space. An oversized flag is a flag ranging between 8 to 16 feet (we can go bigger upon request). To date, we have successfully manufactured and shipped over 100 of these flags, utilizing custom pallets for secure delivery to your doorstep via our reliable LTL freight partners. To get a quote, just click HERE and fill out the information to get contacted from our customs team. We can even do live to-scale renders!
Our company is capable of customizing any aspect of a flag to meet your specific needs and preferences. From custom carving and laser engraving to personalized sizing and designs, we have the tools and resources to accommodate any request. To initiate a custom flag request, please submit your request HERE, including any relevant reference images using the provided image upload button. Rest assured that there is no customization too complex or unique for us to handle.
Our customer support is available Monday to Friday: 8am-4pm.
Average answer time: 2 Hours